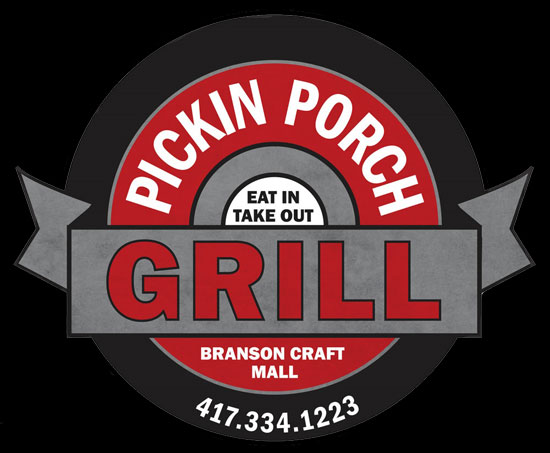 Due to the Governors mandate Pickin Porch Grill will be closed as of March 21 and plan to reopen April 7th. Our prayers go out to everyone affected by this virus and we hope for a quick come back for everyone!
Pickin Porch Grill is open Tuesday- Saturday 11am-7pm
                                                                                                                                     We are closed Thanksgiving and Christmas Day!
..

NO SUBSTITUTIONS
APPETIZERS
Onion Rings…………….……………..$7.99
Breaded Onion Rings with Chipotle Ranch
Potato Skins…..………………..…….$7.99
Potato Skins covered with Melted Jack/Cheddar Cheese, Bacon & Green Onions
Carne Asada Fries…………….….…$9.99
A Pile of Fries covered with Melted Jack/Cheddar Cheese, Grilled Carne Asada and our house Avocado Sauce
Pulled Pork Fries……………….…..$9.99
A Pile of Fires covered with Melted Jack/Cheddar Cheese, Pulled Pork, Baked Beans, Jalapenos, Green Onions and Sour Cream
TACOS
Catfish Tacos…………………………..$9.99
Fried 100% Catfish Piled on 3 Corn Tortillas with Lettuce and our House Avocado Sauce
Carne Asada Tacos….………..…….$9.99
Carne Asada Piled on 3 Corn Tortillas with Lettuce, Cilantro & onion and our House Avocado Sauce
Smoked Pork Tacos..….……………$9.99
Smoked Pork Piled on 3 Corn Tortillas topped with Coleslaw, Our House Chipotle Lime Aioli & BBQ Sauce
SALADS
Grilled Chicken Salad………………..$8.99
Grilled Chicken Served on a bed of Mixed Greens with Tomatoes, Onions, Shredded Cheese and Croutons
Crispy Chicken Salad……….………..$8.99
Crispy Chicken Served on a bed of Mixed Greens with Tomatoes, Onions, Shredded Cheese and Croutons
PLATES
Catfish Plate…………….…….……..$12.99
Fried 100% Catfish Served with a Side of our House Tartar Sauce
Pulled Pork Plate….………………..$12.99
A Pile of Smoked Pulled Pork Served with BBQ Sauce
Chicken Tender Plate.………………$12.99
Crispy Chicken Tenders Served with a side of Honey Mustard
Grilled Chicken Plate.………………$12.99
Charbroiled Chicken Served with a side of Dipping Sauce
KIDS (10 AND UNDER)
Grilled Cheese…..…….……………..$6.99
Grilled Cheese Served with French Fries and a Kids Drink
Chicken Tenders……………..…..…$6.99
Crispy Chicken Tenders Served with French Fries and a Kids Drink
Cheese Quesadilla…..…………..…$6.99
Tortillas with Cheese Served with French Fries and a Kids Drink
SPECIALTY SANDWICHES
(ALL SANDWICHES SERVED WITH YOUR CHOICE OF 1 SIDE: POTATO SALAD, COLESLAW OR BAKED BEANS – UPGRADE TO FRENCH FRIES FOR $1.00 MORE)
TBA…………………………….………..$8.99
Sliced Turkey Served Hot topped with Bacon, Avocado, Lettuce, Tomato, Onions, Swiss Cheese and our Signature Sauce
Porch Dip……………………….…….$8.99
Prime Rib Served Hot Topped with Grilled Onions & Peppers, Swiss Cheese, Our Signature Sauce and a side of Au Jus
Chicken Salad…..……………..….…$8.99
House Made Chicken Salad with Cranberries and Pineapple Topped with Lettuce, Tomatoes and Onions
Fried Chicken Sandwich…..……..$9.99
Fried Chicken Breast Topped with Coleslaw, Candied Jalapenos, Red Onion, Pickles and our House Chipotle Lime Aioli
Catfish Po Boy…..……..……….….…$9.99
Fried 100% Catfish Topped with Lettuce, Tomatoes, Onions and our House Tartar Sauce
Fried Green Tomato BLT………..$8.99
Hand Breaded Green Tomatoes Topped with Bacon, Lettuce, Onions, Cheddar Cheese and our Signature Sauce
Pulled Pork Sandwich……………..$8.99
Smoked Pulled Pork Topped with Coleslaw and BBQ Sauce
BURGERS
(ALL BURGERS SERVED WITH FRENCH FRIES)
Anaheim Burger……………….………..$9.99
1/3 lb Charbroiled Angus Topped with Charred Anaheim Peppers, Avocado, Grilled Onions, Lettuce, Cheddar Cheese and our House Chipotle Lime Aioli
Chorizo Burger…..…………………….$9.99
1/3 lb Charbroiled Angus and Chorizo Topped with Candied Jalapenos, Onion Strings, Swiss Cheese and our House Chipotle Lime Aioli
Porch Burger…..…………………….…$9.99
1/3 lb Charbroiled Angus Topped with Bacon, Avocado, Lettuce, Tomatoes, Onions, Cheddar Cheese and our House Burger Sauce
Bluegrass Burger………….………..$9.99
1/3 lb Charbroiled Angus Topped with Bacon, Onion Strings, Cheddar Cheese, BBQ Sauce and our House Burger Sauce
Single Burger..……..………..….….…$8.99
1/3 lb Charbroiled Angus Topped with Lettuce, Tomatoes, Onions, American Cheese and our House Burger Sauce
Single Burger..……..………..….….…$9.99
2/3 lb Charbroiled Angus Topped with Lettuce, Tomatoes, Onions, American Cheese and our House Burger Sauce